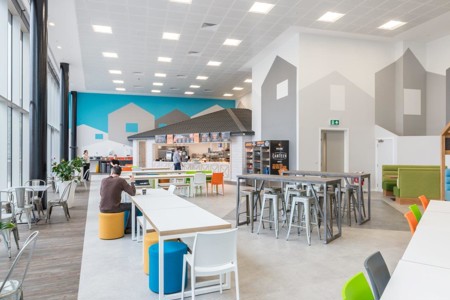 METAL CEILINGS: A FIRST-CHOICE SOLUTION
SAS is a world leader in the design and manufacture of performance metal ceiling systems. We passionately believe that our ceiling solutions provide beautiful, durable and cost-effective solutions to contemporary interior demands and this article sets out our case.
What constitutes a metal ceiling?
Modular ceilings are the most common form of metal suspended ceiling. The tiles are supported by an easy-to-install, interlocking grid of metal sections which are suspended from the soffit. Building services are hidden in the void between the tiles and the soffit.
If the interior design calls for an exposed soffit, then linear ceilings provide an effective way to conceal the building services while the soffit remains exposed. If the preferred option is a baffle ceiling combined with a closed soffit, then SAS has solutions too.  SAS500 or SAS740 are great options.
Competitive pricing
Metal suspended ceilings are available in a wide range of modular and linear systems to enable the most appropriate, flexible and cost-effective solution to be selected for a particular application.
Calculated over the longer term, metal is far more cost effective than alternative materials. Research commissioned by SAS into the overall lifetime costs of ceiling materials projected cost savings of 47% for metal suspended ceilings compared with nonmetal alternatives, based on a 20-year lifespan.

What's more: nonmetal alternatives would be considered unserviceable after a period of 10-15 years, whereas SAS metal ceilings have a 30-year life expectancy. SAS has numerous examples of projects that show that even after 30 years the metal ceiling can look as good as it did that day that it was installed.
Keeping their looks
Steel and aluminum ceiling systems developed by SAS are robust and durable to ensure the ceiling will maintain its appearance long after ceilings formed using alternative materials will have reached the end of their life.

SAS's ceiling tiles and baffles are finished in a smooth, high quality polyester powder coating which is available in any RAL color. A wide range of bespoke finishes, such as metallic, anodized and wooden print are also available. The finish will provide a long lasting, impact-resistant surface that is easily cleaned.

Metal ceilings are also moisture resistant; they do not stain or crumble when wet and the tiles will not warp or sag, even in areas of high humidity.
Controlling noise
The acoustic performance of metal ceilings is often better than that of other common ceiling materials.

A metal ceiling's ability to absorb sound is primarily dictated by the number and size of perforations in the tile and its sound-absorbing acoustic infill. The greater the perforated area, the more acoustically transparent the tile.

A major advantage of perforated metal tiles is that they look like a solid surface and they continue to reflect light, optimizing daylight design and reducing energy consumption.
Variety
All SAS' metal ceiling systems are designed for flexibility and compatibility to enable cost-effective solutions to be developed for all types of spaces: from high end offices to back-of-house areas.
In addition, for prestigious one-off projects, SAS's in-house design team can work with the client to develop a bespoke solution, such as those used in the Bloomberg HQ in London or the Dubai Metro Expo 2020 station
The sheer expanse of a ceiling ensures that it will have a significant impact on the performance and appearance of an interior space. SAS manufactures an extensive range of metal ceiling types, each with its own esthetic and performance criteria:
Modular ceilings can be manufactured with triangular, rectangular or trapezoidal tiles in a wide range of finishes and perforations to complement any interior finish.
Linear ceilings are an attractive alternative to a fully-tiled ceiling where the soffit remains exposed but partially concealed.
Ceiling rafts are usually suspended beneath the soffit in areas where acoustic control is required or to help integrate or conceal building services.
Linear ceilings and open cell ceilings are ideal for applications where a suspended element is required for esthetic reasons, but where the ceiling requires a large open area.
There are even Polynodal ceilings for complex applications where providing a multifaceted or two directional curved ceiling is required.
Integration of building services
One of the most significant design benefits of metal is the ability to fully integrate the mechanical and electrical services within the ceiling. Apertures can be pre-formed during manufacturing to ensure the installation mirrors the design intent.
Many building services need regular maintenance and occasional repair. Metal tiles are easily demounted to allow easy access to the building services behind.
Environmental impact
SAS's grid and suspended tile systems are manufactured from steel while our premium linear ceiling systems and trims are manufactured using aluminum. SAS will only source materials from suppliers with a progressive and innovative approach to sustainable material manufacturing. In addition, steel and aluminum are both 100% recyclable at the end of their life.
SAS's responsible approach to sustainable manufacturing ensures its solutions can help a scheme achieve environmental accreditation, including Estidama, BREEAM, LEED, SKA, Green Tag, AI SA'FAT, SASO, GSAS and WELL.
Long term, metal offers the most durable, cost-effective, best-performing and best-looking ceiling solution for all interior applications.
Trusted UK manufacturing
SAS is a dependable metal ceilings and architectural metalwork manufacturer who have produced iconic products in the SAS owned and operated facilities in the UK for over fifty years. These facilities manufacture products for our national and international client base. Our multi-site production capability allows us to successfully supply projects across all sectors.
The company operates via regional offices, with local technical teams working closely with head office in England to develop the optimum design solution, whether that is a standard system or a bespoke solution.
During this time, the company has built an unparalleled center of expertize in the design and manufacture of metal ceilings and architectural metalwork across the globe and so remain the go to company for Metal Ceilings and Architectural Metalwork.